Quiet. Private. Pro Gear. Awesome Acoustics.
Schedule your setup session
Our team will teach you everything you need to know to record yourself on our professional gear.
Get your private access code
You'll be given a private access code to the studio that you can use during any scheduled session.
Reserve recording sessions online
Use any device to reserve your private recording sessions - weeks or hours in advance.
Record yourself in the studio
Capture high quality takes on our pro gear. If any questions come up, our pros are ready to help!
Get mixed and mastered by a pro
Mixing and master your song with SLC's highest rated professionals for as low as $40/song.
What's the cost?
$10 per hour recording,

as low as

$40 per mix & master
see what the process looks like at our Provo studio
Frequently asked questions
How long is each session?
---
Each recording session is 2 hours. This is usually plenty of time for an artist to finish one or two songs.
---
How many songs can I record in one session?
---
As many as you'd like! Quality should always be the first priority, but if you come prepared you'll likely be able to record 2 or more songs in a session.
---
Can I see the studio before deciding?
---
Absolutely! Schedule a tour here: www.recordsos.com/tour Or watch this video of Bance801 using our West Valley location to record himself: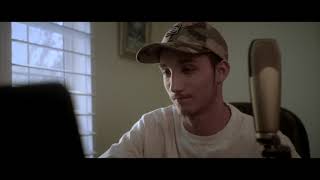 ---
What if I already have someone who mixes for me?
---
No worries! You're not obligated to use our discounted mixing and mastering. It's totally cool for you to record yourself in the studio and send your mixes somewhere else.
---
Can I reserve time back-to-back?
---
You can totally schedule sessions back to back ahead of time, although reserving multiple sessions will cost $50 per session. Here's a secret though, towards the end of your session we'll text you to let you know if anyone is booked after you. If no one has reserved time, feel free to keep recording until the next artist comes. We don't suggest you rely on this trick if you're in a hurry to get your music out, we are pretty busy.
---
Are there any discounts?
---
We're doing everything we can to keep costs as low as possible for everyone, so we don't normally offer any particular discounts. At the moment, we are testing a membership that would allow dedicated musicians to pay monthly for discounted prices. Ask us about the membership during your tour or setup session to be considered for our trial.
---
How much could this really save me?
---
A LOT!

Let's do some math... Worst case scenario, you book a recording session and realize you weren't prepared. You spend the entire two hours not really making any progress and end up really frustrated. Your smart, so you learn from this lesson and practice a lot more before booking your next session. Your prepared this time, so you nail the song and submit it for mixing and mastering.

How much did this horrible scenario cost you?

$00 for your free setup session
$50 for the first session
$50 for the second session $50 for mixing and mastering $150 total. That's still 70% less than the average production costs in Utah
(if you're a vocalist with beats, even more savings if you're recording instruments)

Okay, let's discuss a much more realistic scenario. Although your first session will have some added roadblocks because your probably a bit nervous and everything is still a bit new, most people can still finish a song in two hours if they're prepared.

So what does your first experience with us look like? $00 for your free setup session
$50 for your first self-recording session
$50 for mixing and mastering
$100 total. That's about $500 less than the average production costs for vocalists.

And, it get's better still. After your first session, you'll be a lot more comfortable with the process and you'll know how to come even more prepared. Most of the vocalists we work with are able to finish two songs if they've done all the prep work before coming to the studio. So what does that look like? $00 for your free setup session
$50 for self recording session
$100 for mixing and mastering
$150 total. That's only $75 per song!! That's less than what most studios charge per hour!

If you're serious about music and plan on recording about two songs per month, you'd end up saving $300 per year by coming sufficiently prepped to record two songs per session.
---
What does the setup session look like?
---
1. The setup session is FREE (for a limited time)
Yup. No charge, no committment, no fine print.

2. You get two hours of 1-on-1 time with a professional recording coach
To us, this is extremely important. Everyone's music needs are totally different, so it's vital that we get to focus on your workflow, your needs, and your goals.
(much better than a generic youtube video, right?)

3. It's fully customized to you.
The recording coach will listen to your music, get a feel for your style, and make customized suggestions for you. These suggestions will include which microphone to use, specific microphone techniques, and software tricks to get the sound that's best for you.
---
Can I bring a friend?
---
Yes! Whether they're featuring on your song, pressing record for you, or just hanging out they are welcome in the studio =)
---
How do I pay?
---
You'll pay for each session when you book your session online.
You won't need to pay for the mix and master of a song until after we've produced the first draft for you. Our online revision system allows you to listen to your drafts, request edits, and pay all on the same platform.
---
Can I schedule super late at night or early in the morning?
---
Yes! One of the huge benefits of recording yourself is that you can record at any time on any day.
---
---
Fast. Convenient. Simple.
First, choose your package
Choose from two packages of professional equipment carefully selected to be easy-to-use, long-lasting, and highly professional.
Second, learn from a pro
Each package includes a 2-hour setup session to help you get setup, improve the acoustics of your room, and show you how to record.
Then, save money forever
Get a lifetime discount of $20 off every mix and master when you buy any of our Home Recording packages.
Frequently asked questions
How long is my setup session?
---
The setup session is two hours. This is generally plenty of time for the Recording Coach to get to know your situation and get you all setup.
---
What if I already have someone who mixes for me?
---
No worries! You're not obligated to use our discounted mixing and mastering. It's totally cool for you to buy our equipment packages, have us set it all up with you, and then send your mixes somewhere else.

You do get one free mix and master included with the equipment package, so we do encourage you to at least let us mix one song for free :)
---
What does the setup session look like?
---
It's fully customized to you, your music style, and your needs. In every session, the Recording Coach will:

1. Ask questions to get to know your specific needs.

2. Perform an acoustics test of your room to help you find the best recording techniques for your situation and suggest acoustic treatment if necessary. 3. Guide you through all of your new gear and explain how it works.

4. Do some recording with you to make sure you feel confident before leaving.
---
What specific things will you teach me in the setup session?
---
We'll answer any questions you have while we're there, and we'll answer any future questions you have over text as well. Here are some specific things we (almost) always go over: 1. How to use your equipment in your specific scenario.
2. How to handle the acoustics of your specific space.

3. Which software might be best for your situation. (DAW, Plugins, etc.)

4. How to organize and prepare your recordings for mixing.

5. How to send mixes to us or any other studio. 6. How to import beats or other instrumentals into your DAW.
---
What DAW should I use?
---
Every DAW is unique in how it works and what functions it prioritizes... but the honest truth is that they all CAN do the same things (for the most part). What DAW you use is mostly up to your workflow, but here's some quick guidelines to get you going.

Want the most affordable option that can still do everything but is only $65? Get Reaper.

Want the easiest DAW to use for tracking instruments/vocals? Get Reaper.

Plan on also making your own beats?
Look into Ableton or FL Studio.

Want to use the industry standard DAW? Get Pro Tools.
---
Will my laptop, phone, or computer be compatible with your equipment?
---
Yes! Here is some specific guidance on that...

Simple Package Requirements
iPhone or iPad Android Devices
Any Laptop/Computer
(Low-tier devices are likely to run really slow and may cause a frustrating experience, but any device made within the past 5 years will technically work)

Professional Package Requirements
A Laptop or Computer with...
Windows 7, 8, or 10 (or any macOS)
An i3, i5, i7, or better processor At least 2 GB of ram (ideally 8gb) (phones and tablets will not work for the professional package)

---
---